Category Archive:
Business Directory
177
Bayside Health Professionals, Capalaba
Chiropractic, Nutritional Medicine, Remedial massage' Acupuncture
---
---
Lillicreek Florals, Wellington Point
Lillicreek Florals design and create wonderful floral work for any of your corporate and private events events around Brisbane, the Bayside, and the Sunshine and Gold coasts. Wedding Flowers to decorate your ceremony and reception venue.
---
Bennys Big Blocks, Cleveland
Large grass or slashing work.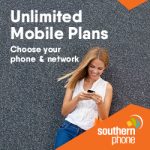 Southern Phone Company
Southern Phone Company is one of the largest and most successful providers of fixed line, mobile and Internet communications services in regional Australia.
It was formed in 2002 after receiving $4.77 million in funding from the Australian Government's Networking the Nation scheme, and has since returned over $14.8 million in dividends and grants for the benefit of regional communities.
AirBnB Hosting in Brisbane Bayside
A bit of spare time and a spare room. That's all you need to get started earning extra income as a host on Airbnb.
Whether you want to become an entrepreneur and work for yourself or you already have a full-time job and just hope to make some extra cash in your free time, you can find what you're looking for on Airbnb.
Torana Club, Thorneside.
We provide information and technical support for the Holden Torana as well as merchandise and memorabilia.
$20 OFF each of your Next Two Meal Orders at Aussie Farmers Direct, expires on 11th September 2017.
Save $40 with MEALS20 – This '$40 off' offer is represented by $20 off each of your first 2 orders.
$50 minimum spend from the Meals category required on each order to qualify for the discount.
Coupon code MEALS20 must be entered on each of the orders to activate the discount.
Vagg Taxation, Wynnum – Accountants and Tax Agents
There is an online option for reporting various Non Urgent Crime and other incidents in Queensland, for the attention of a Policelink Client Service Officer.