Queensland Road fatalities drop to 223 for 2014 year.
Minister for Police, Fire and Emergency Services Jack Dempsey and Commissioner Ian Stewart today (1st Jan 2015) announced that Queensland recorded a record low road toll of 223 in 2014 which is the lowest since records began.
Commissioner Ian Stewart said that whilst he was proud of the part the Queensland Police Service has played in the reduction of the road toll the loss of any life is tragic.
A record low is encouraging news, and we hope to repeat and improve on the reductions seen in 2014. Commissioner Stewart said.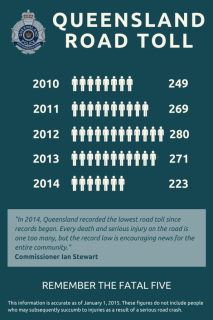 "While it is an achievement to have significantly reduced the road toll this year, the fact remains that 223 people do not get to spend the new year with friends and family, and their loss will be felt by everyone they knew as we start 2015.
"We are in the process of developing the new Queensland road safety action plan in collaboration with our road safety partners.
Some key road safety strategies that the Queensland Police Service are working on in 2015 include an expansion of Roadside Drug Testing capability, further improvements to technology of speed cameras, and continued high visibility road policing operations 'anywhere, anytime'. Commissioner Stewart said.
Professor Barry Watson Director of the Centre for Accident Research and Road Safety – Queensland said that one of the key features of Queensland's approach is collaboration.
Close cooperation exists between the many organisations involved in improving safety on our roads in Queensland.
This not only involves government agencies like the Queensland Police Service and the Departments of Transport & Main Roads and Emergency Services, but the various industry, university-based and community groups who work hard to make our roads safer.
By working together, we are able to ensure that effective, evidence-based approaches are implemented, which have in turn contributed to the long-term reduction in road fatalities in the state. Professor Watson said.
The media conference with Commissioner Ian Stewart, Acting Police Minister Andrew Powell and Acting Assistant Commissioner Mike Keating discussing last year's road toll can be viewed here:
http://new.livestream.com/queenslandpolice/events/3628526/videos/72590760
Statistics
223 deaths from a population of 4,722,447 (June 2014)
1 death per 21,177 population
or
4.72 deaths per 100,000 population