Budget Direct Car Insurance
Award winning Car Insurance from Budget Direct. When you're looking for car insurance, the perfect combination is a great set of product features at the best price possible, and that is exactly what Budget Direct is all about.
Cheapest Car Insurance WINNER

Winner of Money magazine's Cheapest Car Insurance award for the second year in a row giving Budget Direct back to back wins for 2014 and 2015.
Outstanding Value eight years in a row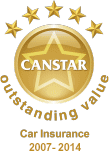 Winner of the national CANSTAR award for Outstanding Value Car Insurance every year since it was first presented in 2007. That's something no other Australian car insurance provider has been able to achieve. And in 2014 CANSTAR compared a record 54 comprehensive car insurance policies, obtaining more than 19,000 quotes.